Clear Partnering Group's Virtual Consult marries direct-to-consumer orthodontic marketing with the quality and experience an actual orthodontist office can provide.
Potential patients can quickly submit HIPAA-compliant preliminary information directly to your office. In return, your office can easily follow up with a personalized report and schedule an in-office exam. Virtual Consult is a helpful inbound marketing tool and delivers significant convenience for patients and doctors alike!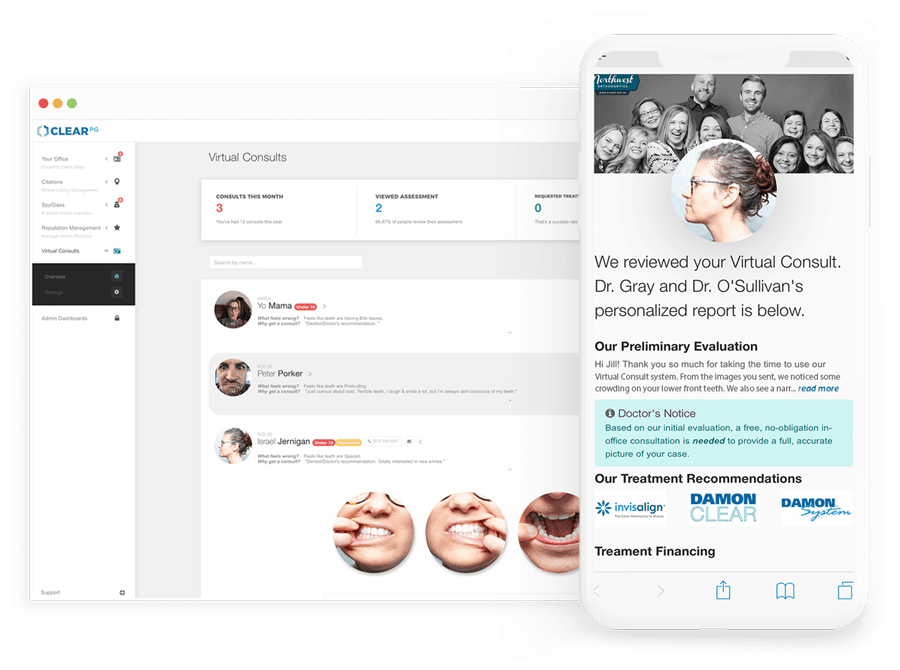 HIPAA Compliant Virtual Consults
It's 2021.  Helping patients understand their orthodontic needs should be online and easy! We convert hesitant potential patients into real quality patients.
Now you can respond to consults with video from your phone or desktop from anywhere! Built right in for the doctor or office to respond directly to patients.
Designed for Speed, Convenience, & Conversions!
Virtual Consult makes everyone's life easier! Potential patients can complete a Virtual Consult in less than 5 minutes! In return, an office can review a case and respond with a personalized report in less than 5 minutes as well!
As a marketing tool, Virtual Consults help patients feel seen, heard and valued! It gives you the chance to show off your office culture and expertise all while building relationships with potential patients even before they visit your office. Virtual Consults aims to make your office the source for expert care.
About ClearPG's Virtual Consults
Virtual Consult is simple to use. Intuitive patient forms and customizable, intelligent treatment templates help you save time without sacrificing a high-quality, personal experience.
You can tailor responses to match the your office's marketing and culture! Verbiage, evaluations, treatment and financing options can all be customized. We even provide reporting that estimates production and tracks patient evaluation throughout.
About ClearPG's Virtual Consult
Built For Partnership and Collaboration
Virtual Consult is making it easy for dental partners and orthodontists to securely collaborate. Virtual Consult makes it easy for a partnered pediatric office to refer to their orthodontic partner, or for a dentist office to provide a value-ad to their patients by submitting observation cases directly to your office for review.
About ClearPG's Virtual Consult
Retention and Virtual Checkups.
Virtual Consult makes it easy to do simple retention checkups. Patient can't make it into the office? Send them a Virtual CheckUp. You can even give them instructions, if you need. You can also use our custom Virtual orthodontic Checkup to send to multiple people at once.
Using Virtual Consult During COVID-19

We wanted to share how other offices are using Virtual Consult to connect with patients for checkups, new patient exams, and even new cases during such an unusually time. See how other Orthodontists and Dentists are using Virtual Consults.
Virtual Consult In Action
Virtual consults help patients get the information they need to start treatment at your office.