How to Create a Custom Tab for Virtual Consult on your Facebook Business Page
Facebook Page tabs are not as widely used for social media marketing as they were 4 years ago. But for those who are still looking to utilize everything Facebook has to offer, we wanted to make sure we offered custom tabs as an option for Virtual Consult.
Please Note: 
You are now required to have at least 2,000 page followers before you can create new Facebook Page tabs. So if you don't have that many followers, check out our article about how to get more Facebook Page likes.
So how do you add Virtual Consult to a custom Facebook tab? Follow these 5 steps to get everything set up and running to accept Virtual Consults from your Facebook page.
Step 1: Find your Virtual Consult unique landing link
Find your Virtual Consult unique landing page url, you will need it later. Save it, copy it, however works for you. Just know you will need it later.
You can find it in your Virtual Consult settings under the Widget tab, or in your install PDF.

Step 2: Log In to Facebook as a Facebook Developer
Step 3: Create and Name Your New Tab
1) Click the blue 'Create New App' button from the menu 'My Apps'. Then enter the name of your practice as the app name.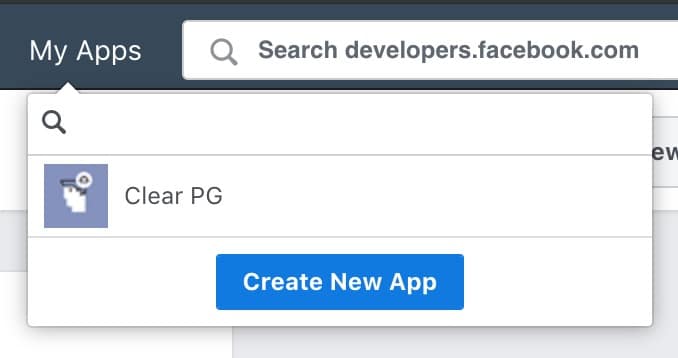 2) Now you can name your app, and who should be contacted. Go ahead and press 'Create App ID', once you add your practice name here. (Note: You may be required to enter a captcha first to prove you are indeed human ;-)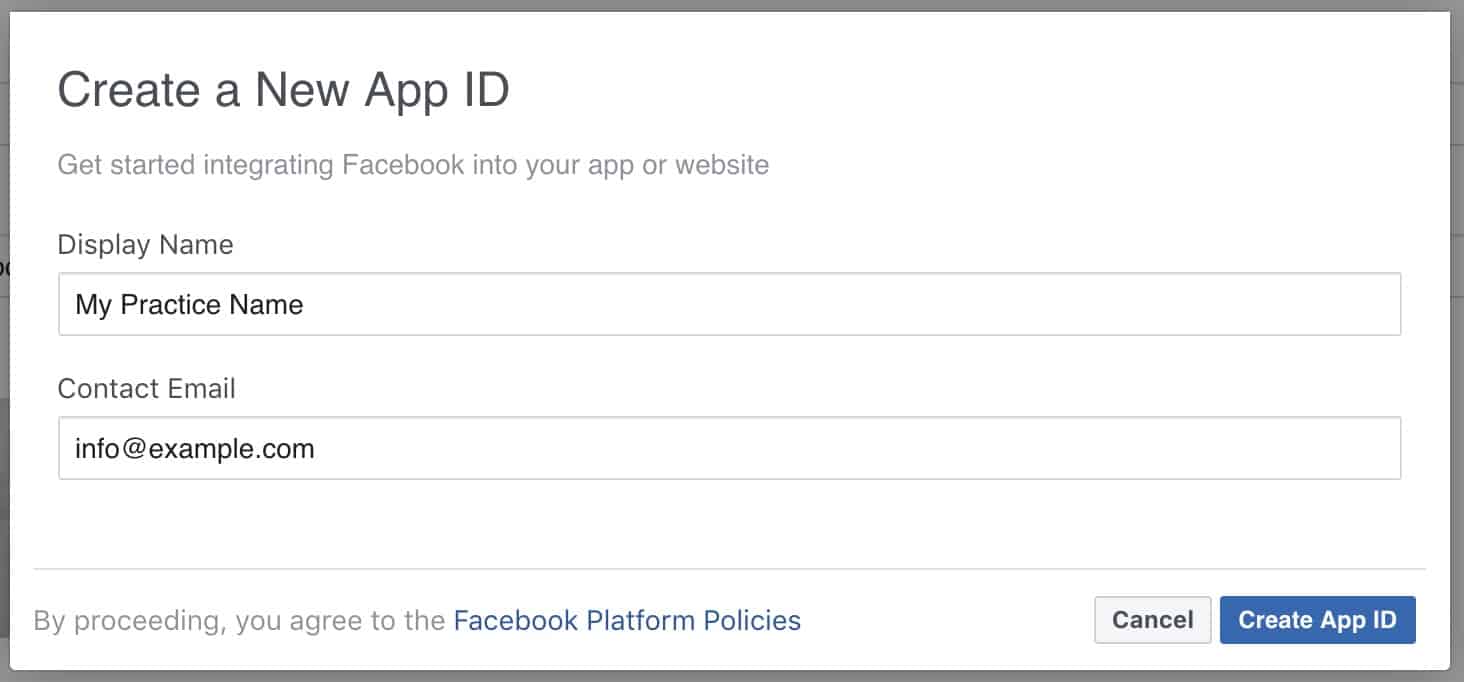 Step 4: Configure Your Facebook Page Tab
1) Instead of selecting any of the options presented in your App Dashboard, go ahead and navigate to the 'Basic Settings' page.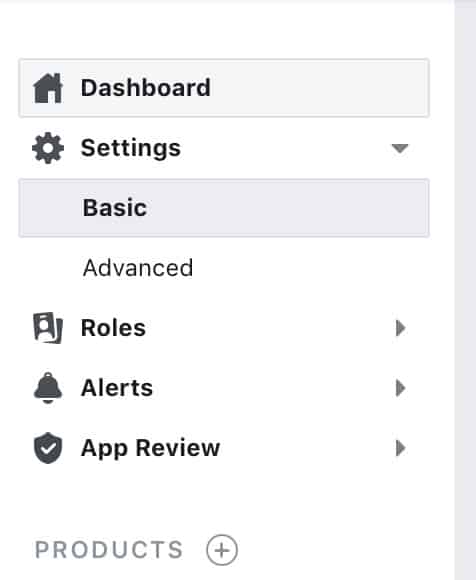 2) Here you'll see a bunch of settings and options you can change, but the section you need to find is called 'Add Platform' at the very bottom. Go ahead and press it. A new dialog will appear where you can select that you want to create a new 'Page Tab'. Go ahead and pick that option.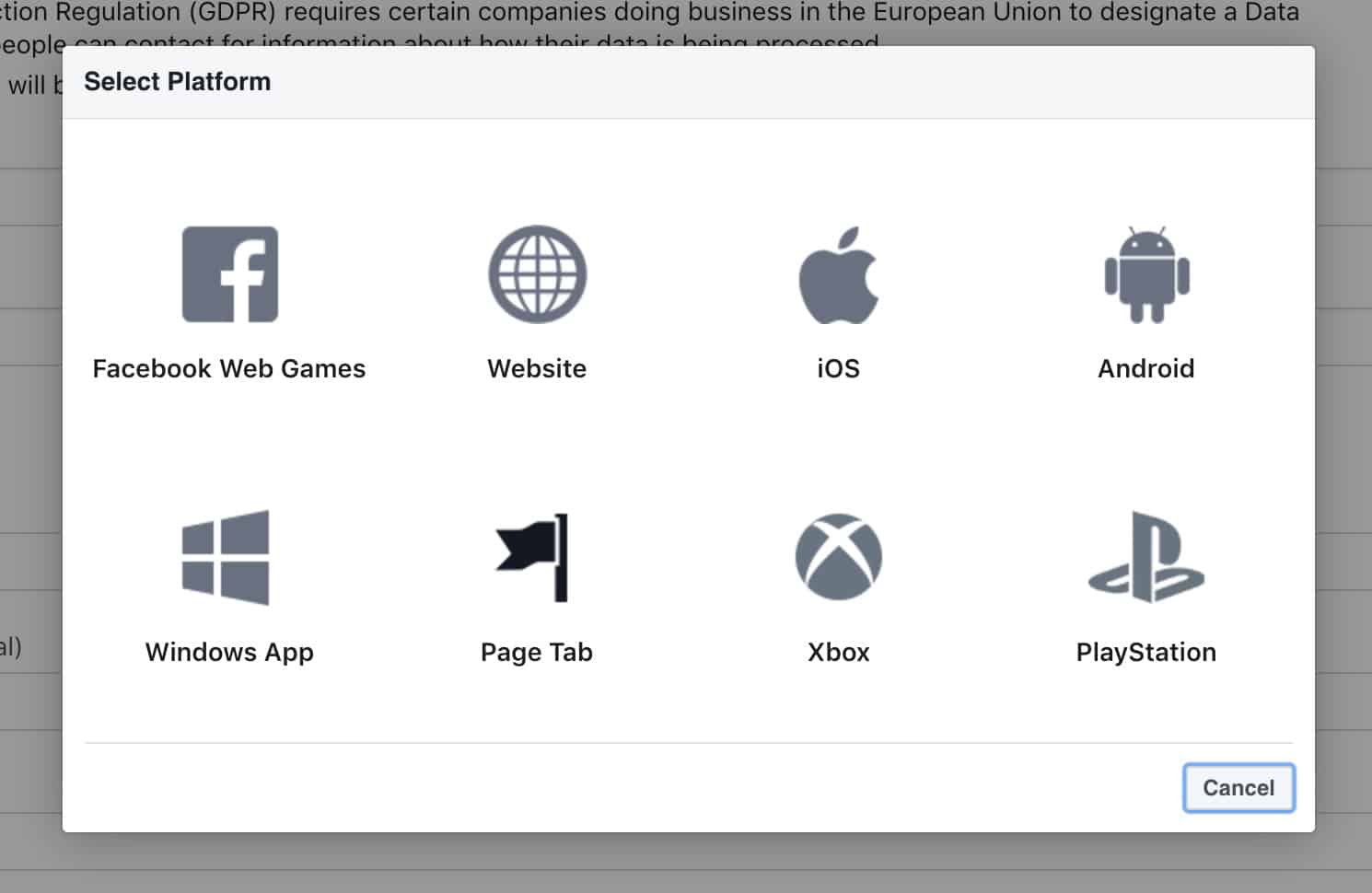 3) Next, add the 'Secure Page Tab URL' from step 1 that I told you to copy and save for later. It's your unique Virtual Consult page. The only other section that you need to worry about is the 'Page Tab Name'. I recommend naming it Virtual Consult, but you are welcome to use whatever name you want. All the other settings you can leave as is.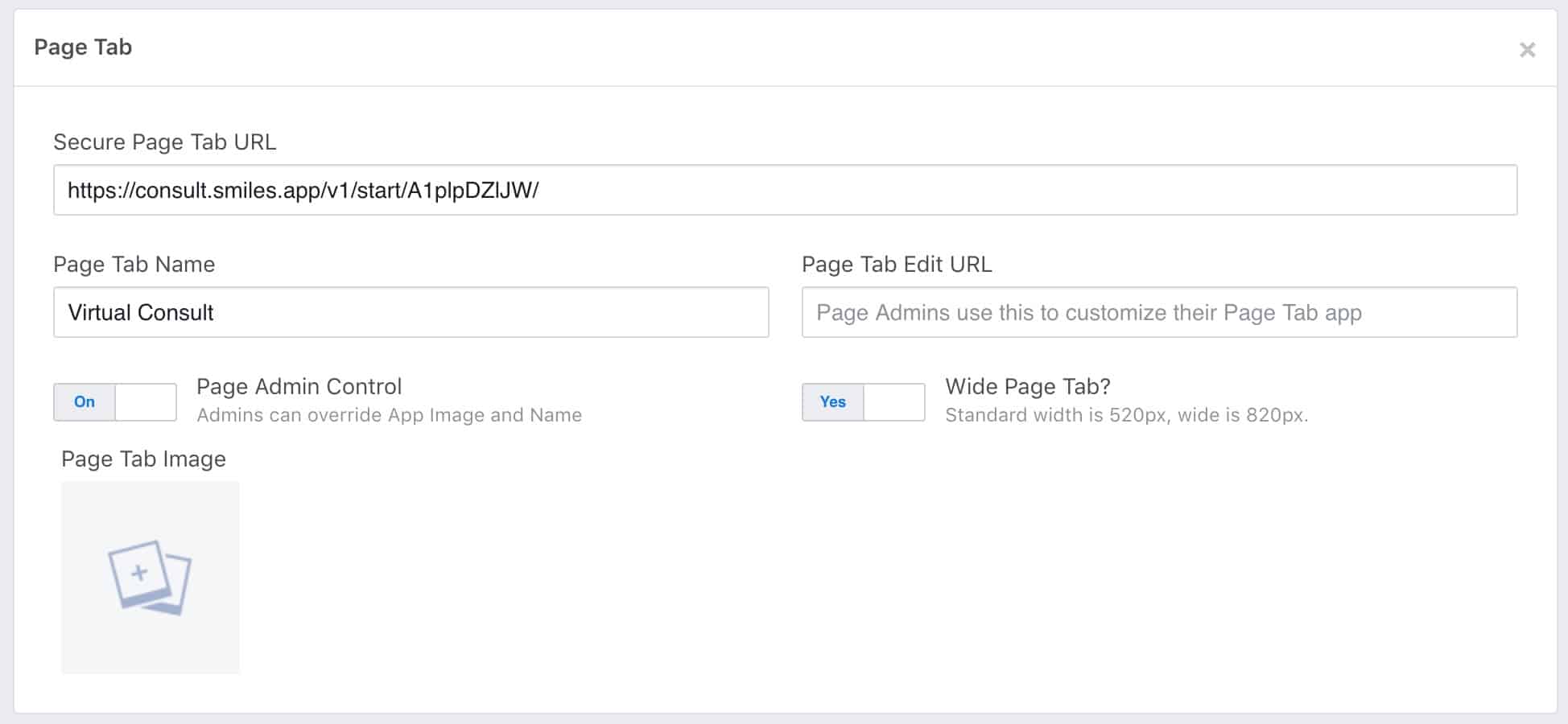 4) If you are happy with your tab name, go ahead and click the blue 'Save Changes' button at the bottom right.
Step 5: Add Your New Custom Tab to Your Facebook Page
This step is where you find out if you are approved for adding a new tab to your Facebook Page. There are a few steps you'll have to take to be able to set this up. You will need to type this into your browser and visit this page with your Facebook App's ID and your Virtual Consult URL.
http://www.facebook.com/dialog/pagetab?app_id=YOUR_APP_ID&next=VIRTUAL_CONSULT_URL
1) First, replace the parts in red in the URL above — YOUR_APP_ID and VIRTUAL_CONSULT_URL — with the 'App ID' found in the basic settings for your app, and your 'Secure Page Tab URL.'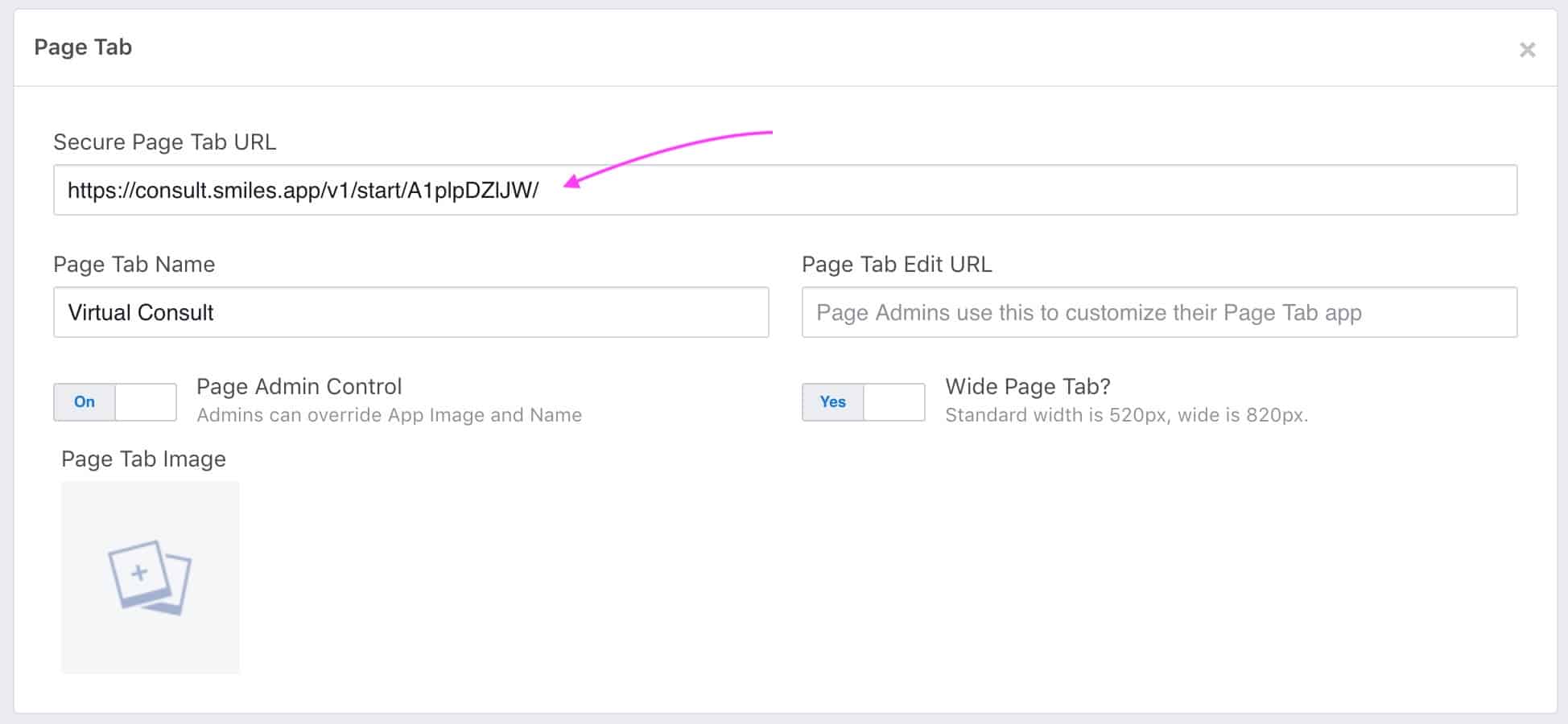 So using the example above, your new URL would be:
http://www.facebook.com/dialog/pagetab?app_id=
329957827671511&next=https://consult.smiles.app/v1/start/A1plpDZlJW/
2) Once you have your URL like the one above, go to it in your browser. Once you do, you will see…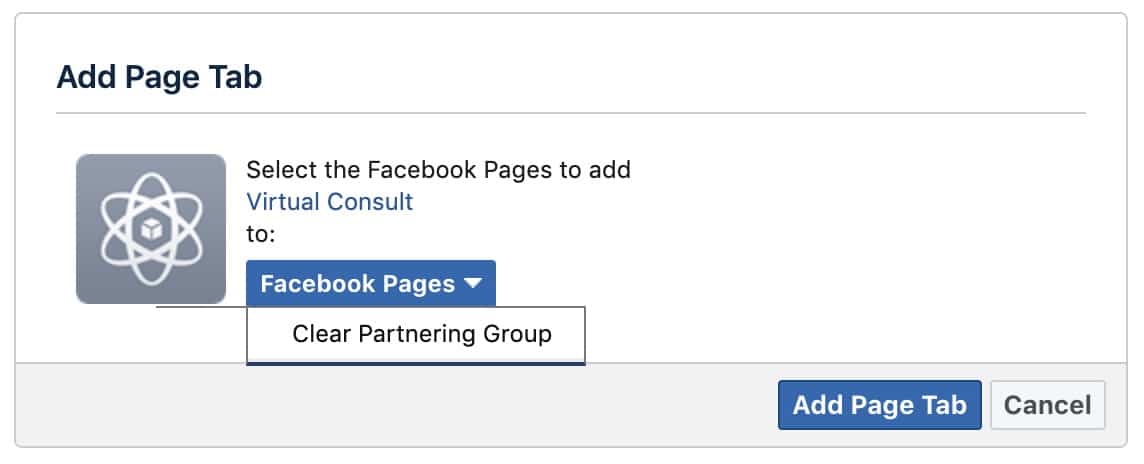 3) Click on Facebook Pages and select your business page you want Virtual Consults on. Then click 'Add Page Tab.' You will have to be an administrator of the Facebook Page you are trying to add in order to add the tab.
Boom! Now you've done it! Go and check your Facebook page and see your new tab. Don't' forget to market Virtual Consult on your social media. We have some great Marketing Resources in your dashboard if you need content, photos, graphics, etc. Be sure and check it out!
Step 6: Need help installing?
For Facebook's official documentation about creating custom Facebook Page tabs, click here.