Virtual Consult is a marketing tool that orthodontists all over the country have been using to provide the quality and experience of seeing an actual orthodontist — with the convenience and flexibility customers have come to expect online. In response to the Covid-19 outbreak, many orthodontic offices have temporarily closed or have restricted the number of patients they're seeing in the office in an attempt to flatten the curve — and ultimately protect the most vulnerable in our communities. But that doesn't mean they've had to stop taking new patient exams or even stop checking in with existing patients.
Here's how orthodontists in the US are using Virtual Consult to keep business flowing despite Covid-19:

The Benefits of Using Virtual Consult to Manage Your Practice Throughout The Coronavirus
Receive Inbound Leads
Maintain Current Inbound Leads
Use Virtual CheckUp to Keep Up With Current Patients
Keep Patients & Staff Safe
Partnerships & Collaboration
Talking about Virtual Consult on Social Media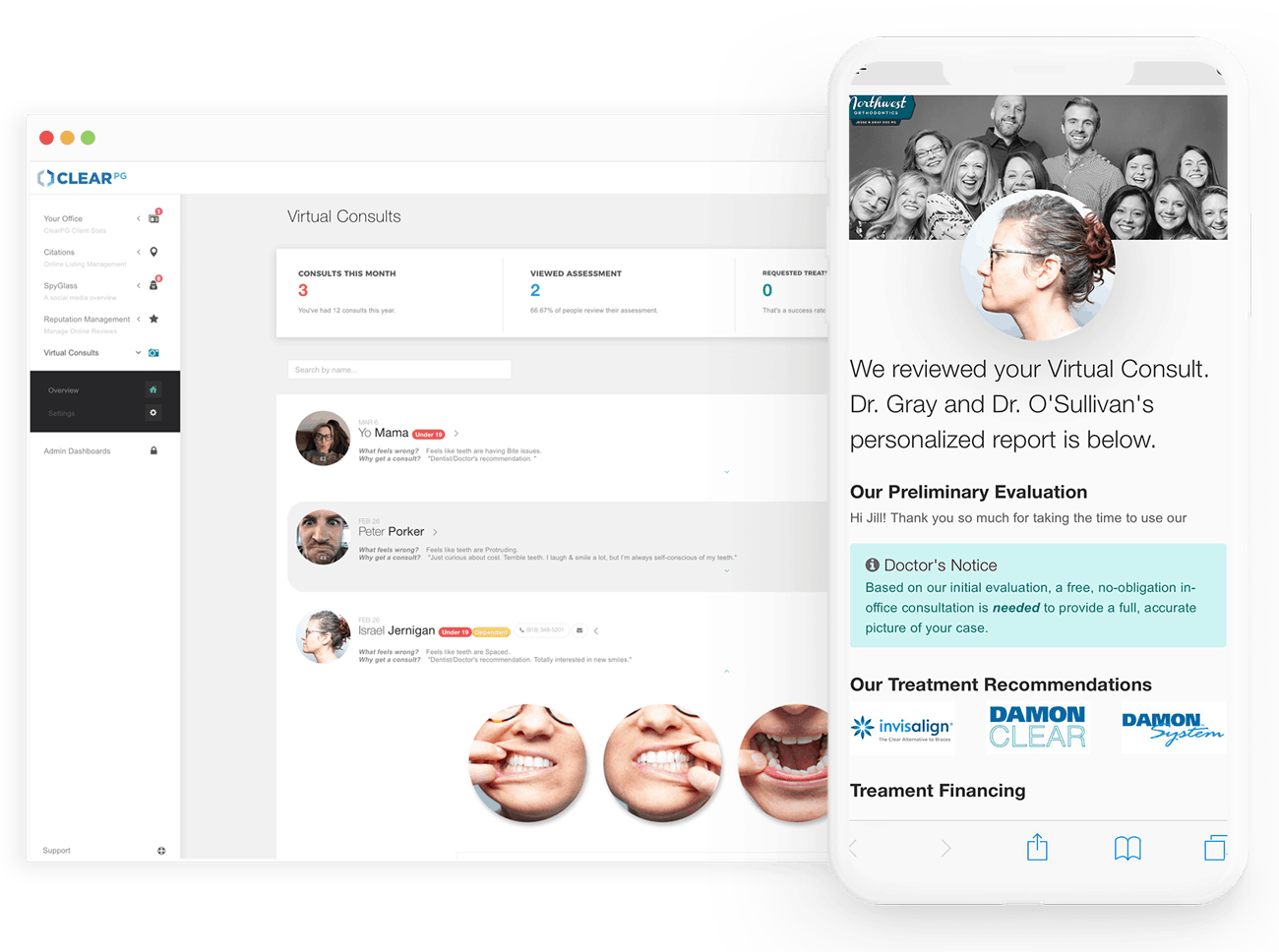 Potential patients can complete a Virtual Consult in less than 5 minutes! In return, an office can review a case and respond with a personalized report in less than 5 minutes as well!
Virtual Consult allows patients to connect with an actual orthodontist — from the safety and convenience of their own home. With pre-built, personalized templates, you can quickly and easily respond to their unique case with treatment options, pricing, and financing options. Virtual Consult helps you build a relationship with potential patients before they even come to your office. It's a way to show them that you're available even during this time of uncertainty, and more than that — that you care about their unique situation, and you want to make it easy for them to get the care that they need.
Maintain Current Inbound Leads

To retain patients who have already expressed interest and scheduled new patient consultations, many offices are reaching out directly and moving these leads to Virtual Consults. This allows you to maintain a relationship with these patients and to share feedback, treatment options, pricing, and to walk them through financing options. Once your office is back up and running, they'll be ready to complete the clinical aspect of their consultation and start treatment.
Use Virtual CheckUp to Keep Up With Current Patients
Even while their offices are closed, many orthodontists are using Virtual CheckUp to keep in touch with existing patients. You can send a Virtual CheckUp to your patient on an individual basis — or share the link to your custom Virtual CheckUp landing page, so any patient can submit their photos and information.
Virtual CheckUp is a way to show your existing patients that, even though your office may be closed, you're available and you care. It may be that waiting a few extra weeks between their next in-office appointment is totally fine —and with Virtual CheckUp, orthodontists are able to communicate that to their patients, with the confidence that their actual doctor has checked in on their progress.
Keep Patients & Staff Safe
The CDC suggest virtual visits to prevent infection and avoid exposure. Being able to connect and diagnose remotely can help patients feel seen, heard and valued at a time when many patients are looking for reassurance from their providers.
Built For Partnership & Collaboration
Virtual Consult is making it easy for dental partners and orthodontists to securely collaborate. Virtual Consult makes it easy for a partnered pediatric office to refer to their orthodontic partner, or for a dentist office to provide a value-ad to their patients by submitting observation cases directly to your office for review.
Talking about Virtual Consult on Social Media
Now more than ever, people are being bombarded with bad news on social media. Frankly, it's exhausting. Virtual Consult gives orthodontists the opportunity to stand out and share something fun and positive on social media. Many orthodontists are getting a huge positive response and inbound traffic to their Virtual Consult from social media.