In every community right now business owners are making really tough decisions to serve the greater good of their community. The uncertainty of this time leaves all of us concerned about our neighbors and in Northwest Arkansas we've seen some amazing responses from local business owners. Personally, we're pretty impressed by these folks and we just wanted to brag on them. We realize how lucky we are to be surrounded by such truly rad people who remind us everyday why we love working in the service industry.
We're really proud of these businesses who are going above and beyond in our community right now. Thank you to everyone giving their all to take good care of those of us who need it the most.
---
Wright's Barbecue
Wright's Barbecue has always been pretty well known for two things: the best dang BBQ in Northwest Arkansas, and being super generous. On Sunday night they announced that they'd be offering free lunch for kids grades K-12 who are on free/reduced lunch program. They offer carry-out and curbside pickup as well as outdoor dining.
---
Clean Cookin'
Located just a few steps away from our office, Clean Cookin' is one of our team's favorite places to grab lunch. They offer healthy, pre-made frozen meals and they're offering one free $5 meal for kids each day.
---
Little Bread Company
The sweet folks at Little Bread Co. are offering free lunch for kids grades K-12 who are on free/reduced lunch program. A Facebook post from earlier today thanked "wonderful people in our community" who have donated the meals. They only offer take-out at this time.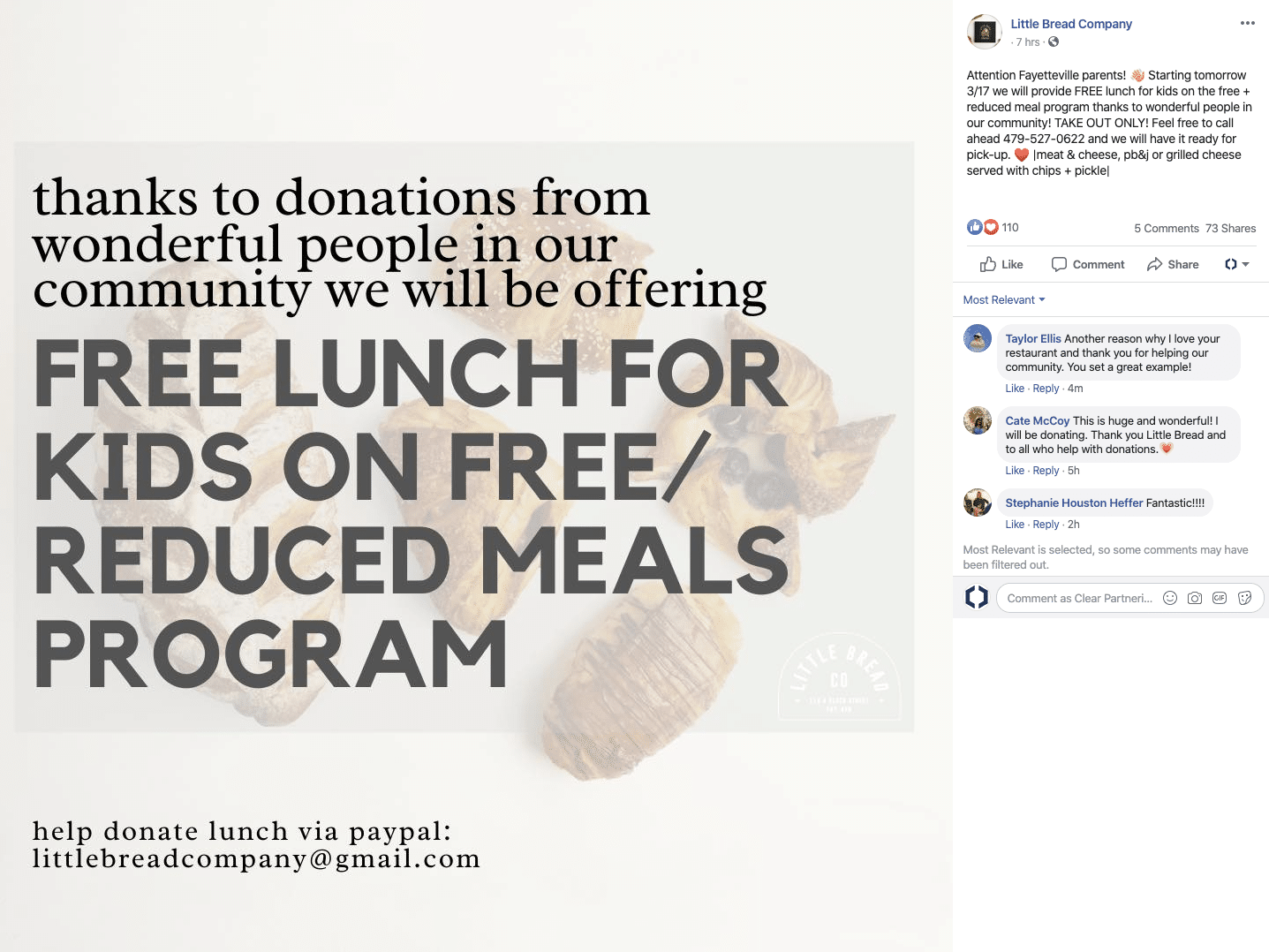 ---
Jersey Mike's & Marco's Pizza
Last Thursday we were all touched by the generosity of a man on Facebook– Jersey Mike's and Marco's Pizza were the first local restaurants to announce that they'd be offering free meals for kids in our area. The post has been shared over 12,000 times, and now they're offering free food for any families who need it, handing pizzas and sub sandwiches into car windows as families drive through. Thanks to many generous donors the restaurant has now raised over $5,000 to continue their efforts.
Today they fed 200 kids, and they don't show any sign of stopping anytime soon. Bravo, guys– you started something truly great.
---
Some other really wholesome stuff
Seeing our community band together in a time of need has been inspiring to each and every one of us. We all feel very fortunate to have the ability to continue working and serving our clients from home during this time. We're collectively committing to support the businesses that have chosen to give so much during a time that will ultimately impact them for a very long time to come.
Bottom line: You guys rock. Thanks for taking good care of us.
---
NWA Free Food for Kids
A Facebook group sprung up yesterday providing a resource for communication related to hunger relief efforts while schools are closed. Posts range from free meals offered by local restaurants to lunch bus delivery information for area schools. The group is growing rapidly, with over 5,000 members in just 24 hours.
---
Y'ALLIDARITY!
A Facebook group sprung up last week, providing a space for volunteers to organize community assistance efforts. Their goal is to provide errand service, deliveries, and general help to those who are self-quarantining, with a specific focus on assisting the elderly and immunocompromised. The group has both English and Spanish speaking members and they have recently launched an online assistance request form to help streamline efforts and assist even more people throughout the region.
A post in the group summed it up nicely: "We know asking for help may be hard but that is what this group, this community is for. No judgement. No strings. Just love and kindness and folks willing and ready to go the extra mile." Excellent work, y'all.
Check them out on Facebook.
---